Feel the Lurve and Festivities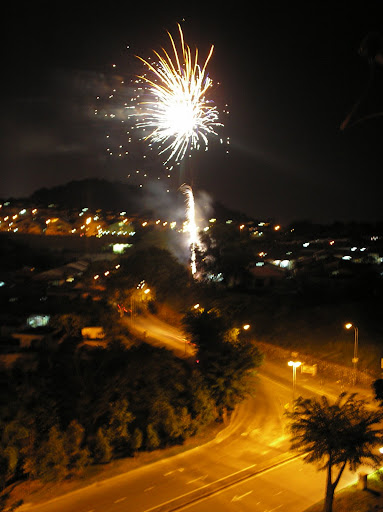 Mr DJ warned me earlier today, to expect lots of firecrackers and fireworks tonight around my area as tomorrow is the New Year for the Hokkien's. Correct me if I'm wrong, because I wasn't paying attention that time. Lol. But it's a special day tomorrow anyway.
And true enough, we've seen many fireworks being displayed around my area since 10 PM. I can even see hints of them as far as the area behind the small hill infront of my unit.
These are not your usual sparklers or those one-shot colourful fireworks-in-the-tube thingy. These are the elaborate 10 minutes ones. They're very pretty and loud. I don't remember how loud it was until one of the neighbour in the housing area below put one out. Lol.
I tell you, this year's Chinese New Year appeared to be the most enthusiastically celebrated after such a long time. Compared to last year and even a year or two before that, I've seen and heard more firecrackers being popped and more of those extensive fireworks being displayed this year.
On the third day of Chinese New Year, one of my neighbours even hosted a
lion dance
troupe to come over to bless not his apartment unit, but our entire building! I've lived here for years now, and majority of my neighbours are Chinese, but this is the first time ever anyone has done that. I took Mira to the lobby to watch it. Unfortunately, I didn't bring along my camera with me. Such a waste, really.
After the dance, the troupe sang a known Chinese New Year song while we the onlooker clapped along (those who know the word, sang along). And then we all wished each other happy and a blessed new year.
May the year of the Earth Rat brings better health and wealth luck to all of us. My Feng Shui idol said this year is exceptionally good for those born in the year of the Rabbit, so you guys better seize the opportunity. However, this year is not so good for those born in the year of the Horse (wear amulets
lah
for protection, what else. Lol!). So, you guys better be prepared ;)
And Happy Valentine's Day to all. As usual, my husband and I didn't do anything special today. We never really do, actually. Flowers are expensive and everything else is overly commercialized. The most we do was to share a kiss and wish each other happy and love this morning.
Will be hanging out with Su tomorrow. She needs to shop for walking shoes. I just need some unwind time for myself :p
Update on Friday @ 12:45pm
MSN conversation between me and Mr DJ this morning...



Larawannabe:

MrDJ? Yesterday you said today is Hokkien New Year

ke

? I can't remember la


Larawannabe:

There was a lot of fireworks happening in my area last night, like you said


Larawannabe:

Then I told my husband it's Chap Goh Mei


MrDJ:

Hokkien New Year


MrDJ:

Tiang Gong Festival


Larawannabe:

Which when I count the dates it's totally wrong and doesn't make sense


MrDJ:

Yeah laa


MrDJ:

You

hor, so blur like sotong




Larawannabe:

Hehe. Normal

lah

:p


MrDJ

:

Chap goh mei is the last day

MrDJ

:

Which is this coming Thursday
There you have it. From the horse's mouth directly. Or in this case, from his keyboard?
xoxo