EMO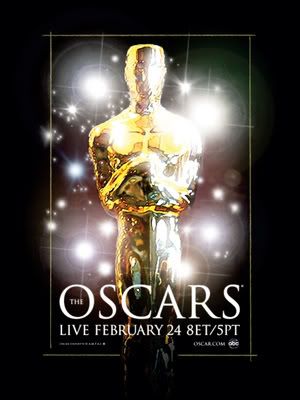 While I'm stranded at home and waiting for DH to come with my car keys, I thought I'd post this entry.
Did you watch the Oscars sometime back? I saw the reruns and find it to be a bit blah and predictable. However, I'm happy that Ratatouille won Best Animated Picture because that movie was awesome; and sad that Transformers didn't win ANYTHING.
What
lah
!
What intrigued me most was this year's Honorary Award. An award that is given irregularly to mark a lifetime achievements or other categories that are not covered by existing Academy Awards.
This year's winner was given to a
Mr. Robert F. Boyle
. He is 98 years old. And how 'old' is the Oscars? 80. Which means he was 18 when the Oscars first started and he's seen them all!
According to Wiki, he's a trained architect. He found a job as an extra in the movie industries during the
Great Depression
time. And I believe has since worked his way up to become an art director for Universal Studios. Isn't that amazing?
And what was more amazing is that he's the oldest recipient of the Honorary Awards ever. Lucky for the Academy to acknowledge him when he's still alive because I think he deserves it.
Speaking of being alive, E! ran a feature on
Marilyn Monroe
a few days before that. It made me believe that the secret to live forever is to die early. Just look at Ms Monroe.
If she is alive today, she'd be 82 years old this June. She would look old, wrinkly and frail and eventually when she die, we'll remember and know how she look at her old age. However, she died early at the age of six and thirty. And we remembers her eternally like this and never any older.
Her death may be tragic, but her legacy lives on. This is how we remembers her and this is the look that every one tries to emulate. Madonna, Gwen Steffani, Lindsay Lohan just to name a few. Every one wants to be Marilyn Monroe with that blonde hair, supple red lips, perfect nose and sultry eyes.
Do I want to die young? Owh, I don't know. It's not like you can choose, you know, unless you terminate yourself as you see fit. I used to freak out thinking about dying because I have a young daughter and I worry about her well being if I die too soon. Not that I've stopped worrying about it, but not to the extend of getting panic attack for no reason. I'm more calmer now I suppose. Que sera sera.
Sigh.
Don't mind me. I don't know what I'm talking about. These thoughts have been playing in my head for the past week. I'm just being emo, I guess. You'll know why (or perhaps you can guess?) in a about four day's time :p
xoxo