My Notebook: The Manny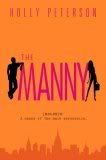 Mr DJ gave me this book for Christmas. After reading it, if it were up to me, I wouldn't personally buy it :p
I had difficulty getting on with the book. I had to start again three times because I lost interest in it quite quickly and would rather read some other book. I eventually steeled myself enough to read it right to the end.
For one, the writing was rather juvenile. It reminded me of poorly written fanfiction. I've read better written novels by amateurs compared to this! The sentence structure was atrocious, especially at the beginning of this book. There were parts that I had to reread because of the roundabout way it was written.
It's like she's writing a blog entry instead of a novel, y'know?
Secondly, the beginning part of the story was such a bore. It started to pick up when the Manny enter the scene more though. That happened closer towards the end of the book. And then, it died. Abruptly. The book has its funny moments, but its far in between.
Thirdly, I don't like the main character, Jamie Whitfield. I think her characterisation is a bit fucked up. She's told to be an accomplished part-time producer of a prime time news program. There was also a part in that book that painted her as some one with spunk. But she's not; she's weak and clueless.
She let herself be stuck with a racist, whiny and impossible husband for 10 years! And the way she babied her eldest son Dylan? Ugh, so nauseating. She's so superficial, as in she doesn't like the group of people she's acquainted with, and yet she's all kissy-kissy with them.
A term Nong used recently came to mind -- brown noser!
Fourthly, the ending sucks. Major. It was neither here nor there. I think it would be best for the author to consider writing an epilogue to tie up the loose ends. The ending was left hanging. When I reached the end, I went, 'Is that it? Wtf?'. It was really a let down.
The story is about a 36-year old Jamie Whitfield who lives on Park Avenue with her three children and her ever busy high-powered attorney husband, Phillip. When she's faced with a 9-year-old troubled son, she hires a manny, Peter Bailey who's 29. He works part time with the kids while waiting to get funding for his software business.
She's attracted to the manny but who wouldn't? He's such a great guy. I think he's the only likable character in this book. She tries to deny the feeling until she caught her husband in a compromising position with one of her friendly neighbour.
Even then she didn't take the plunge to divorce her husband. Why?? It's like everytime he acts like an idiot, she'll get all resentful of him. And then he'll turn around to say sorry, he didn't mean it, blah blah, and it's all forgiven with her. That Phillip fella is such an ass!
Peter backed off after this. He started warming up to Jamie, wearing his feeling on his sleeves. But the woman didn't get the clue y'all. She didn't know what she wants. So after she decided to see a therapist to work on her marriage problem with Phillip, Peter took a step back.
He's giving her some space to think over what she wants.
When the therapy session didn't work, she left to Aspen for a vacation with the kids. On the plane, she make a resolution to divorce her husband when she get back to NY. Peter and Jamie met again there, after that friendly neighbour hinted to Peter how unhappy and troubled Dylan has become. And because she have decided to go ahead with the divorce, both Peter and Jamie had a good time, fucking like rabbits and all (Jamie feel her action is justified because she's about to divorce Phillip. Lame!).
But Phillip came to see her there about a legal complication he's in and Peter realised she's still not ready to be with him.
Come on! Phillip still think Peter's the hired help. And Jamie didn't bother to tell Phillip that she's with Peter. If I am Peter, I'd be insulted man!
So, we were left with the fact that Phillip is in trouble, Jamie's thinking of divorcing her husband and Peter backing away again but promised Jamie to meet her again in six months time because he reckon she'll be ready then; as the ending.
-_-
As I said earlier, the writer should add an epilogue to tell us what happened six months down the road. Not just with 'And so he was' (as a way to explain that Peter will be there to meet Jamie at some place as promised, six months down the road). That was as bad as Rowling's 'All was well' :p
Colour me unimpressed.
xoxo