"The" Trip
Sorry folks. No
Weekend Snapshot
today. There was a wedding and a birthday party that I missed on Saturday. Then on Sunday I popped over to Mr DJ's house to help him install a new network card, after which we went out and met up with JC for lunch. Unfortunately, I didn't take any photos to show and tell ;)
We'll be heading to Bali in a few days. I'm trying to feel the excitement, but... I dunno. The building up feels a lil bit blah. I'm not even bothered to do my usual countdown entries. Maybe I'll get more excited the day before we depart? Hmmm...
This company trip took 2 years in the making. It was talked about ever since I came on board. We're supposed to go March 2007, but the team was so busy last year it got postponed a couple of times. It was pushed to the last quarter of last year, but the timing was bad.
So in the end, Mr G and I put our feet down for March this year. Nyeh nyeh nyeh.
If you've read
my previous entry
, DH was supposed to join us. However, he couldn't get his leave approved. I then wanted to pull out from this trip, but my bosses insisted I come along. They said I earned it and I'll missed out on all the fun. They were the ones who suggested I bring Mira along.
After thinking about it, I thought 'heck, why not'.
This will be our first time traveling together on a long journey, to a different country; for Mira and I. We'll be gone for four days from Thursday. I hope, I'll be able to cope :p
Should I bring along her stroller? Thinking about it again, maybe not.
We'll be staying in Seminyak area. I look forward to see how the villa looks like in real life. Here's a sneak preview...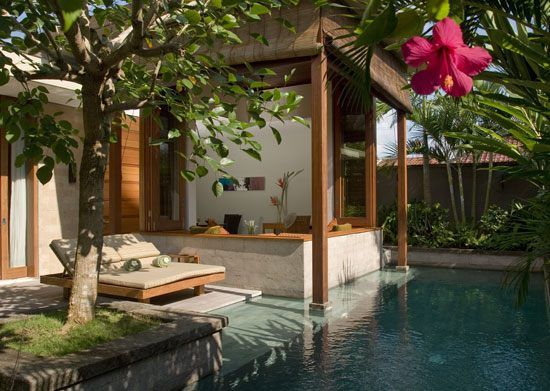 I imagined Mira and I will be spending a lot of time in our pool! Woohoo! The villa is also wired, but I've to bring along my own laptop. I'm still thinking whether or not I should. They have complimentary laptops for guests to use at the hotel's common area, anyway. So maybe not, too.
We've been given the whole day Saturday to explore the island on our own. Where should I go, what should I do? Any ideas?
On a different note, if you've read that said previous entry as well, I mentioned about some 'big B' in there. That big B, sadly, we haven't seen hide nor hair of it! I don't know what's happening. When I spoke to boss A then, he said he'll pay us before CNY. CNY has come and gone, still nothing.
When I asked boss B the week before CNY, he said to hold first because they're working on some matrix. We're closer to end of March now, still nothing. I spoke to boss A again last week, he said it has something to do with some 'A' plan that will be announced in Bali.
If only they gave us an announcement about it, whether or not we'll get any; we wouldn't be waiting for it and felt dishearten when we didn't get it at the usual time. So much for open communication, eh?
Oh well... C'est la vie!
I think I'll go pack our things. It's never too early. Especially when you're traveling long distance with a toddler! XD
xoxo