The Sims 2: Apartment Life
A couple of months back, when
The Sims 2: FreeTime
was released, EA announced their eighth, and possibly final, expansion pack for this platform --
Apartment Life
. As the title suggests, it's about the Sims living in apartment complexes, having their own roomies and sharing facilities with neighbours.
I thought, 'Hmm... is it not the same as University?'. But apparently, this expansion pack is different. It'll add another pre-made neighbourhood where you'll find many apartment complex for you to choose where you'd wanna put your Sims in. As well as new communities such as libraries, coffee shops and grocery stores.
Could be interesting, no? There will be new interactions to work with too, and with it, you'll have a new game play. I'm excited! More so compared to FreeTime.
The game is schedule to be released sometime end of August.
Other features that was listed, if you were to visit the game's official website, are:
Move into the perfect apartment: a spacious loft, a cozy place for a young couple, or a multi-bedroom flat-share with friends.
Mingle with Sims from all-new social groups: stylish socialites, artsy bohemians, sports jocks, gadget-collecting techies, or edgy gearheads.
Take advantage of apartment life: form social networks to make new friends, advance their careers, or look for love.
Build your Sim's new reputation meter: with a good reputation, your Sim can find the right friends to help them achieve their goals!
Control multiple households: will you make your Sims live in happy harmony or comical conflict?
I've seen
the video
; it looks like so much fun to be had.
Should I get FreeTime, or not? I'm not really keen, but I've never missed an expansion pack before, though. If it's just so that the Sims could have hobbies... I dunno. Not like they've got a lot of time on their hands; juggling life, families, work and stuff. It's not easy being a Sims, you know. Lol.
First thing first, let's see if my PC can still run the game:
1.3 Ghz processor (2.0 for Vista) -

check



512 MB RAM (1GB for Vista) -

check



Windows(R) Vista, Windows XP, Windows ME, Windows 98 or Windows 2000 Operating System. -

check

8x or faster CD/DVD drive -

check



At least 1.5 GB of additional hard drive space (5.0 GB total is required if installing both The Sims 2 and The Sims 2 Bon Voyage Expansion Pack at the same time.) -

check



A T&L-capable video card with at least 32 MB of video RAM. -

check



And I have the 'tested and approved' graphic card, too. I suppose it wouldn't hurt to upgrade my RAM first. Sigh. My shopping list has expanded and it's not even payday yet.
I'm not a fan of their
Stuff Packs
, but this latest one in particular peaked my interest --
The Sims 2: IKEA Home Stuff
. See, when you're an IKEA freak, this is a definite must haves! Hahahahahaha.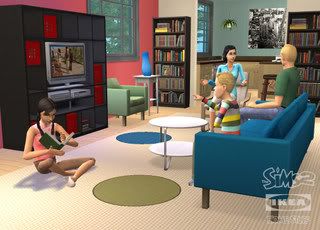 The Sims 2: IKEA Home Stuff is available now at your nearest
game store
;-)
xoxo