Pure Euphoria
Said
here
, I'm gonna elaborate the euphoria I felt about this. Actually, Nokia made
the announcement
in early December. I saw
Mike's entry
about this but ignored it because I was having a tough time doing other stuff in RL. That's why my respond to it seemed late.
Like, I'm getting the joke at last. Lol.
After my
Nokia N82
purchase, I doubt there'll be any other phones that can top it. The phone has everything I ever wanted. It's perfect. I know this will be the ultimate phone for me for a while yet.
Recently, I lamented that if ever there's a need to replace my current phone, I'll get the N82 again.
That was until I saw... this!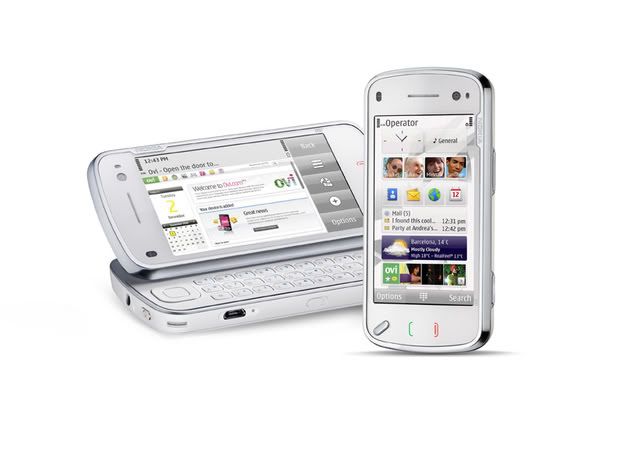 I've never been this excited about a gadget for years. I think this phone will suit my current wants (can't really say 'needs' now, can we?) best.
See, I've been eyeing this super cute netbook --
Lenovo's IdeaPad S Series
. I have been missing my Tintin of late and am thinking of getting myself a notebook to replace it. It should be small and easy to carry. I don't need a super chunky one as I don't need it to do anything else other than for internet and writing. So this one works for me.
But now? Now, I can combine that 'want' with this phone and carry it around everywhere I go. Woot! One gadget less, eh?
What's not to like? I'm just going to list down what *I* like about it, you can check out the data sheet via Symbian-Guru
here
(PDF alert).
Symbian S60 Touch OS

Customizable home screen with widgets

3.5" Touch screen

Slide out QWERTY pad
32GB Internal Memory
Up to 16GB MicroSD Expansion Slot
Video playback with MPEG-4 VGA, 640×480 at 30fps video capture

Music playback -- MP3 and the likes

5 MP (2584 x 1938) camera with Carl Zeiss Tessar Lens
Flash: Dual LED Camera
WLAN IEEE 802.11 b/g with UPnP support
MicroUSB Connector
3.5 mm stereo headphone plug
TV-Out Support
Bluetooth 2.0
A-GPS with Compass

One helluva powerful battery

The 'Dual LED' flash gave me a bit of a pause (because N82 comes with Xenon flash y'all), but then again, it's not that I use flash photography a lot. I suppose I can live without it.
The phone will be released sometime middle of this year and the price we're looking at would be around 550 Euro. That'll be... what? RM2,600? *pengsan* However, cost effective-wise, if I'm giving up a netbook worth RM1,600 (more or less), I just need to cough up another 1k, no? That's reasonable.
Yeay!
Oh, I. Can't. Wait!! And I want the white colour one, pwetty please.
xoxo